Back & Neck discomfort or severe pain!
Often found in our families or among friends.
Mehernaaz offers a 3 step solution to a healthy back:
Detailed Assessment
She studies the medical history and performs clinical orthopaedic tests
Assessment & Education on lifestyle
A HOLISTIC APPROACH – Nature of work, stress levels, physical activity, gastrointestinal inflammation, menstrual cycle, posture & sleep habits are discussed. Work ergonomics, movement, lifting habits & nutrition guidelines are provided to reduce pain.
A Tailor-made Exercise Program
Based on information collected from step 1 and 2, a tailor-made program is prepared by Mehernaaz and the exercises are taught to the clients. The exercise program is changed every 6 to 8 weeks to help the patient / client to progress in their flexibility, stability and strength and to work towards a stronger and pain-free back.
Mehernaaz works with patients for:
Herniated or slipped disc
Strengthening deep stabiliser muscles
Core stability and strength
Improving flexibility and mobility
Correction of muscle imbalances
Functional movement patterns
Chronic back and neck pain
Please allow me to explain you, through examples of 2 case studies, how I work with my clients/patients.
Location
At Wellness Lausanne
At your home
& via Skype
Private & semiprivate classes by appointments
ASSESSMENT (Muscle & Joint Tests and a Personal Interview) are highly recommended to all clients/patients, before joining any group or private classes. This enables effective results and to understand their body and physiological loads, however they are not compulsory. Please click here for more information.
New group classes "SITTING POSITION & MUSCLES "
will start from 12 September 2022
Class benefits
Deep body work with a global approach
Reduced muscle tensions
Stretching tight muscles
Strengthening the torso and core muscles, along with the limbs
Improved posture which results in reduced back ache & pain
Exercises are modified and adapted to each participant's needs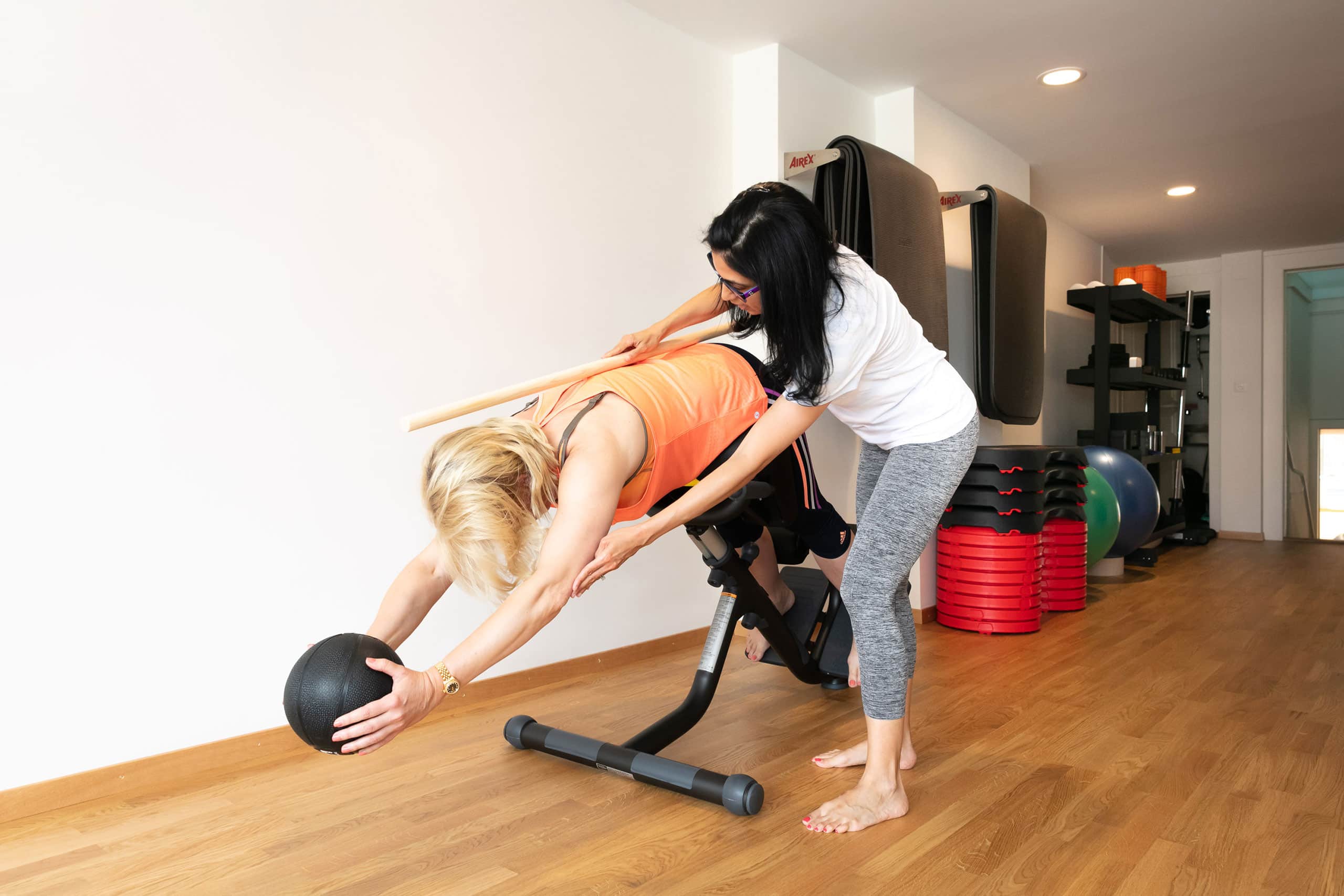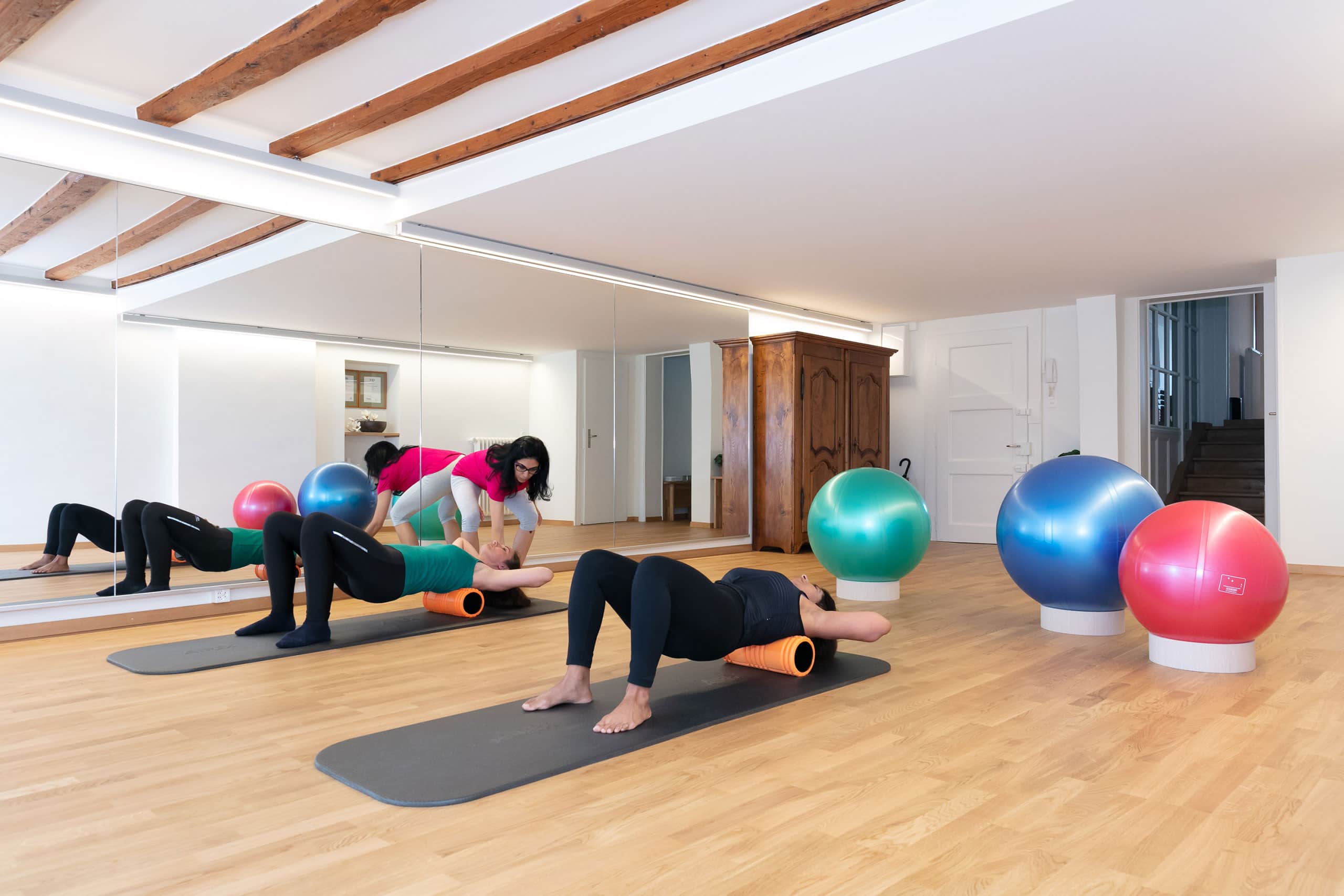 Information about group classes
Mondays & Thursdays from 12:15 to 13:30

In English & French

Maximum 8 participants

Open to all ages
Shower and changing room at your disposal
No group classes on public holidays
All sanitary requirements as suggested by the OFSP (Office Fédéral de la Santé Publique) will be strictly adhered to – Distances of 1.5m between clients, availability of hydro-alcoholic gel and masks
To learn more, click on the icons below.
Group Class at the Wellness Lausanne
Individual class ……………………………. CHF 50.- *
3 discovery classes ……………………………. CHF 50.- *
Seasonal subscription …………… CHF 35.- / class *
10 class Package ……………………….. CHF 450.- *
(valid for 5 months for all group classes)
20 class Package ……………………….. CHF 800.- *
(valid for 10 months for all group classes)
Private class at Wellness Lausanne
1h Class ……………………………. CHF 120.- *
1h15 Class ……………………………. CHF 150.-  *
Semiprivate class at Wellness Lausanne
2 participants : CHF 90.- / pers. * Class of 1h15m
2 participants : CHF 80.- / pers. * Subscription for 10 classes of 1h15m
3 participants : CHF 60.- / pers. * Class of 1h15m
3 participants : CHF 55.- / pers. * Subscription for 10 classes of 1h15m
4 participants : CHF 50.- / pers. * Class of 1h15m
4 participants : CHF 45.- / pers. * Subscription for 10 classes of 1h15m
(All subscriptions are valid for 4 months)
Custom Assessment
Muscle & Joint Tests and a Personal Interview, approximately 4 hours – CHF 450.-* Travel costs of CHF 20.- for home assessments
Private class at your home
1h Class ……………………………. CHF 140.-*
1h15 Class ……………………………. CHF 170.-*
(Travel cost included)
Semiprivate class at your home
Program design
A tailor-made program prepared for you, to help you practice at home or on travels: CHF 150.-*
2 programs: CHF 200.-*
3 programs or more: CHF 230.-*
* For those insured, a period of 10 mins at CHF 20.- is charged as administrative charges for the first subscription only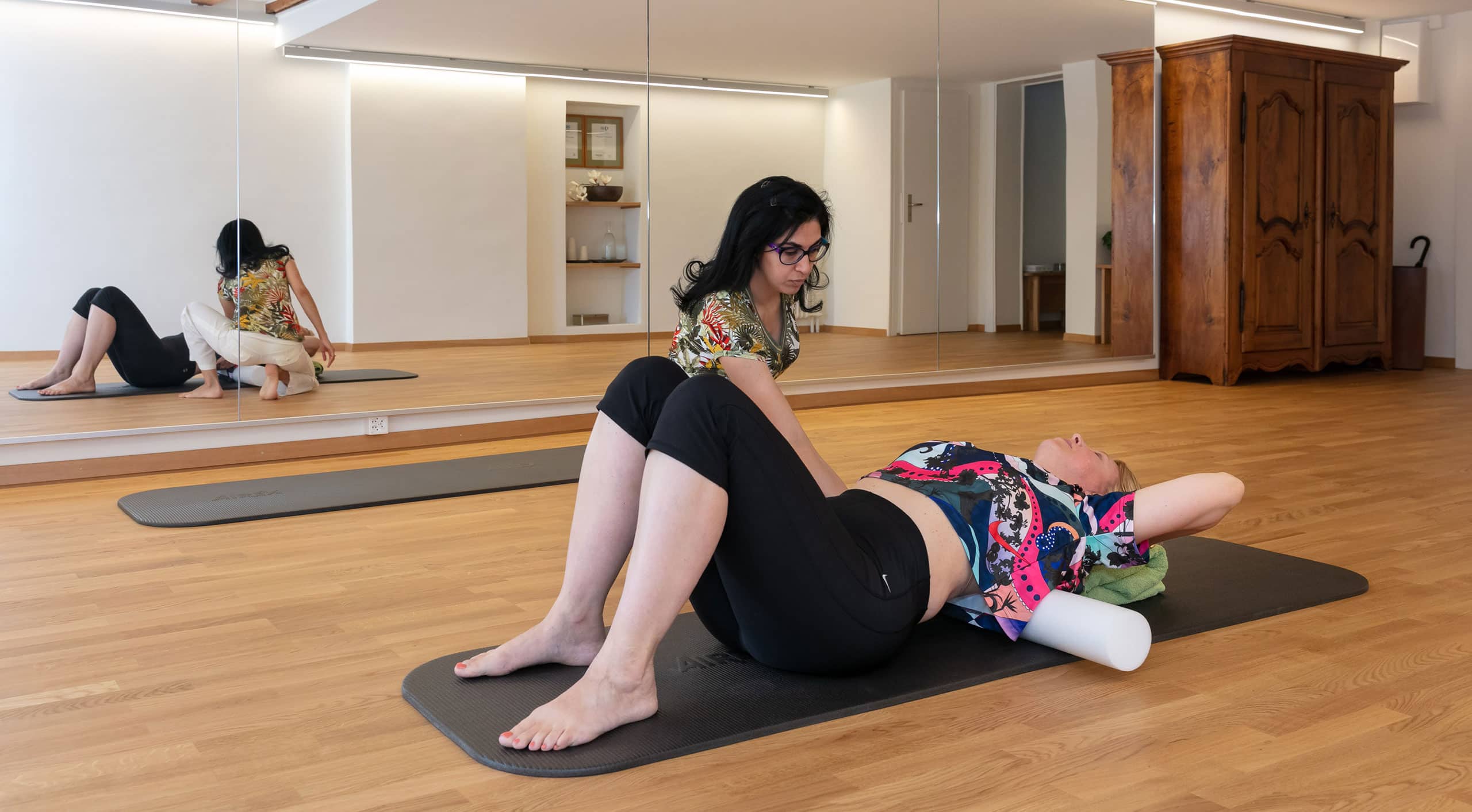 Payment terms:
Please note that cancellation of appointments must be done 48 hours in advance, otherwise they will be charged. Thank you for your understanding.
Seasonal subscriptions cover a defined period of time. Missed classes are neither refunded nor postponed.
Any registration confirmed by email or telephone message will be due and final, if it is not cancelled by the same channel within 7 (seven) days of confirmation.
Payments to be kindly made within 7 (seven) days from the date of confirmation for private, semi-private and group classes.
POSTURE
"Posture is where one's health begins." explains Mehernaaz
Good posture enables complete respiration, improved blood circulation, efficient functioning of internal organs, a well-balanced musculoskeletal system, prevents muscular aches and pains and improves self-confidence.
Mehernaaz helps individuals to sit and stand upright through education on lifestyle habits, re-organization of their work station and a tailor-made exercise program.
WORK ERGONOMICS
Aligning your workstation and learning how to sit correctly is very essential to prevent and cure back & neck pain. Most of us spend hours seated in transport, offices, sofas, restaurants, etc. Mehernaaz considers this subject an important step in treating her patients.
NUTRITION
Nutrition is a key factor for good health. Poor nutrition can lead to deficiencies, disease and reduce stamina levels. Mehernaaz believes in natural organic sources of food to receive optimum nutrition and hydration.
For a healthy back and good digestion which go hand-in hand, drinking enough water and eating correctly are very essential.